So far this week I havent gotten much done. Thats not to say I didnt want to do stuff and make my house all nice and pretty, but life just hasnt let it happen. Sunday my youngest was sick and vomiting all day, Monday was full of different appointments to the doctor and WIC and immunizations. By the time we got home it was time to eat dinner and go to sleep. Well I guess my youngest finally learned how to share because Tuesday morning and most of the day I was throwing up....it was HORRIABLE! This morning I woke up feeling fine and i thought we were all done being sick...I thought it had skipped my oldest DD, but I was wrong. About an hour after she woke up this morning she started throwing up. So most of the stuff on my To Do List has been put off for another day. Thank God I'm a stay at home mom and have the ability to put all the things I need to do off for another day.
I have however managed to take pics of the girls closet after using the milk crates I found in the trash, and I took before shots of my hubby office that I was planning on organizing today. I still might go out and get the things I need for the office real fast, but I definatly wont be grochery shopping like I wanted to do. Oh well such is life. We can get grocheries tomorrow.
So here are the girls closet after using the milk crates, and reorganizing a few thing.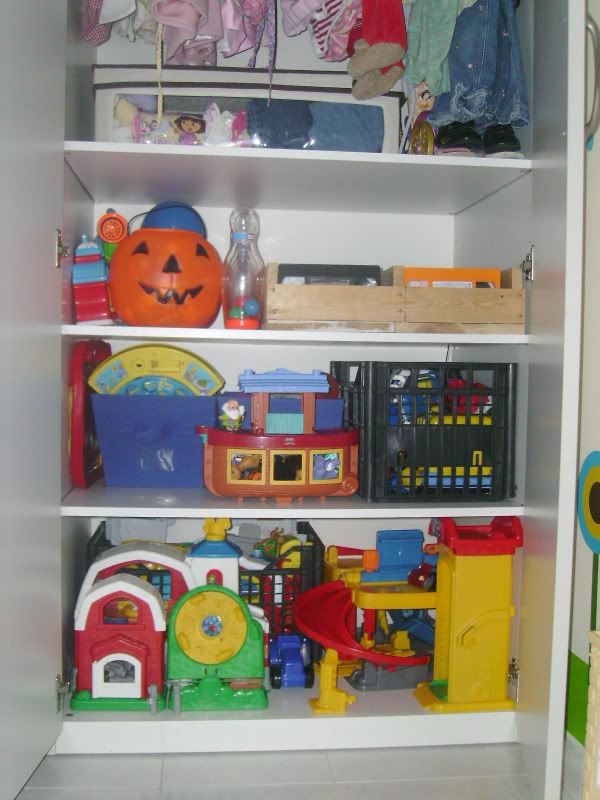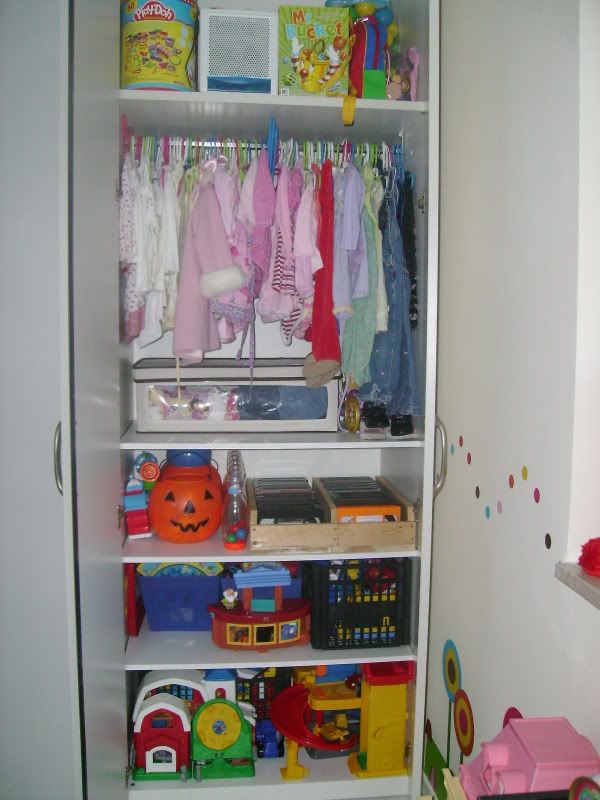 Oh and we FINALLY got their wall sticker in and up =)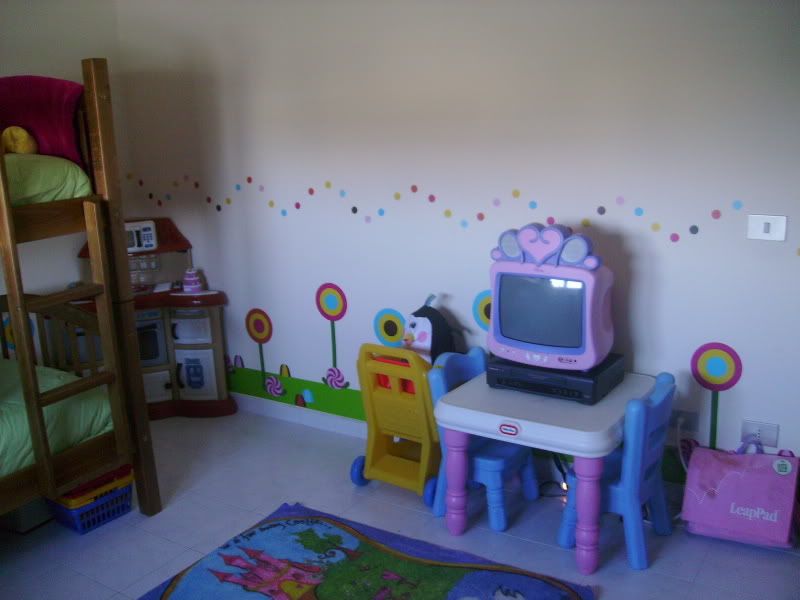 Im not finished yet...I want to get some colorful shelves probably from Ikea or Leroy Merlin and hang them on the wall where their TV is and then string up some clothes line and hang some colorful artwork with clothes pin. Hopefully it will look as good as it does in my head.

And here is my new project.....Hubby's office.....prepare yourself, it's scary. This project was inspired by Organizing Junkie's Monthly Organizing Round-Up. Again you should definatly check out her site at
http://orgjunkie.com/
BEFORE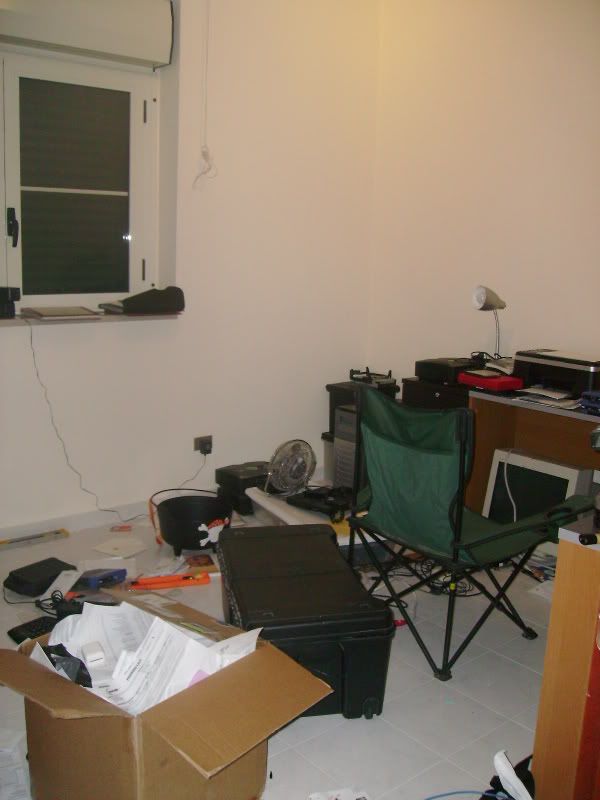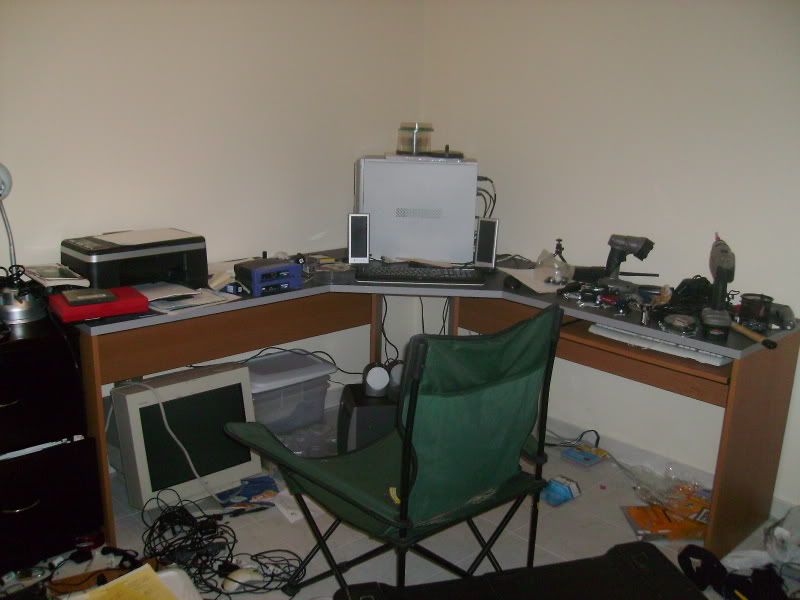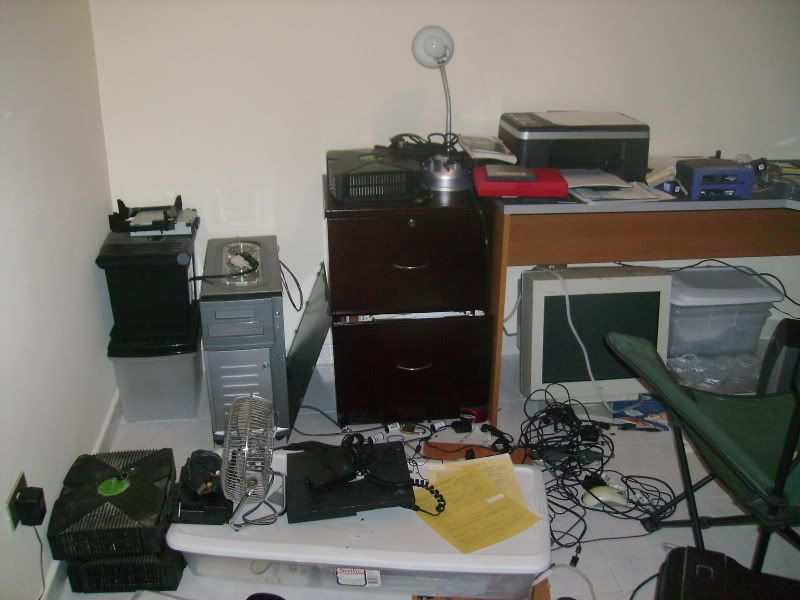 and the closet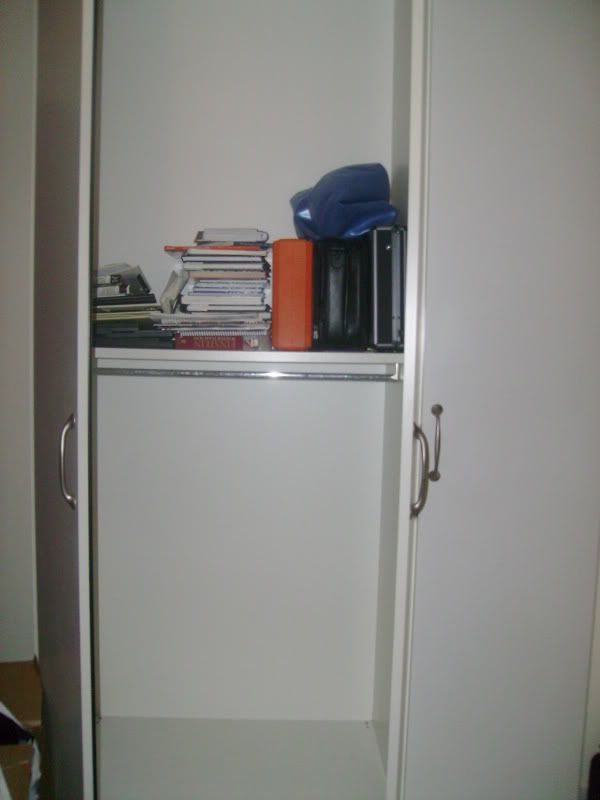 Now can someone PLEASE explain to me how my dear sweet husband thinks that he is more organized than I am. This is the ONLY room that he has to keep clean because it is his office after all and he just hasnt been able to do it. I however manage to keep a whole house clean and organized, but he
thinks
he's more organized. Makes total sense. I can't wait to get working on his office. I have some GREAT ideas, well i think i do anyway =) Did I mention that Im going to redo our file system too? I figure if hubby doesnt like something then he can change it when he gets home sometime in November.
UPDATE
Im done!! I finished organizing hubbys office today =) Ok it took like 4 hours or so but I did it. Well to the best I could anyway. The NEX is out of hanging file folders at the moment so I either need to wait for the NEX to get them in or order them on-line. I'll probably just wait. I also need to find something with little compartments for all the differnt screws and nails hubby has. Right now they are kinda just thrown in a plastic shoe box which kinda irks me but its better than having them out all over the desk. Ok so here are the after pics =)
AFTER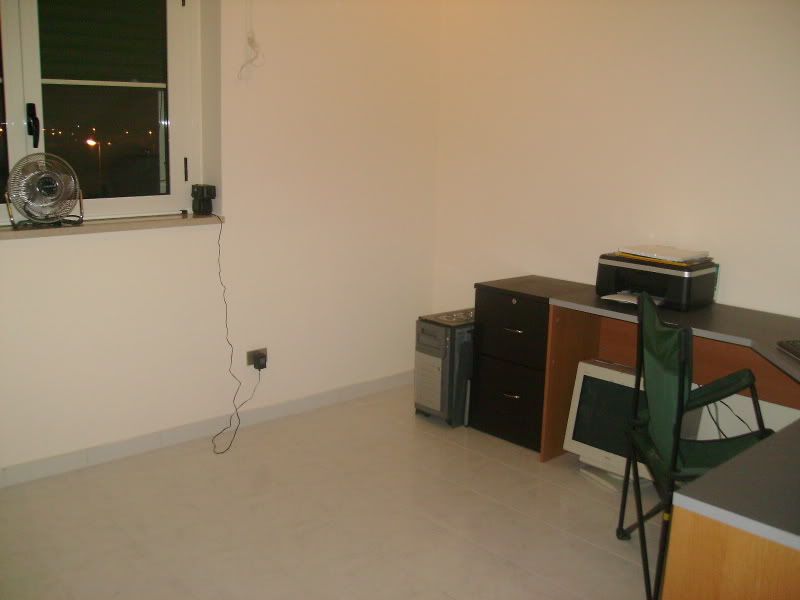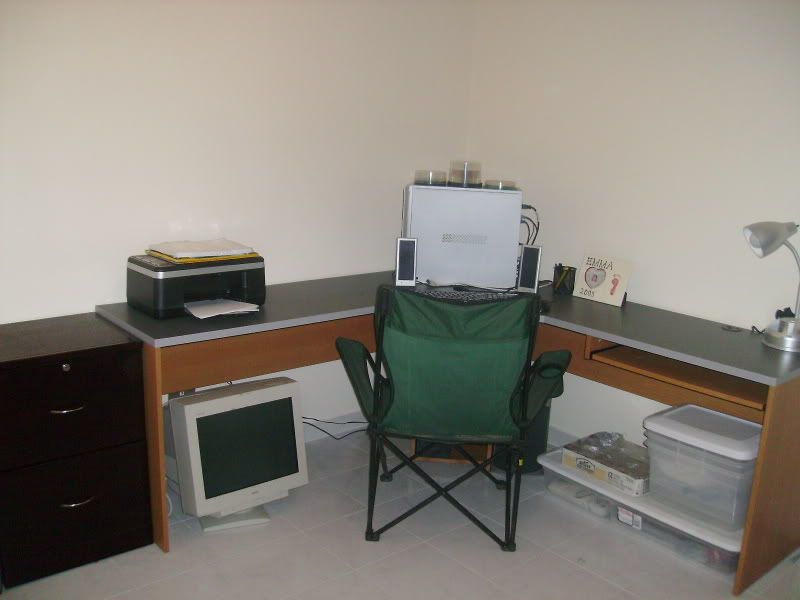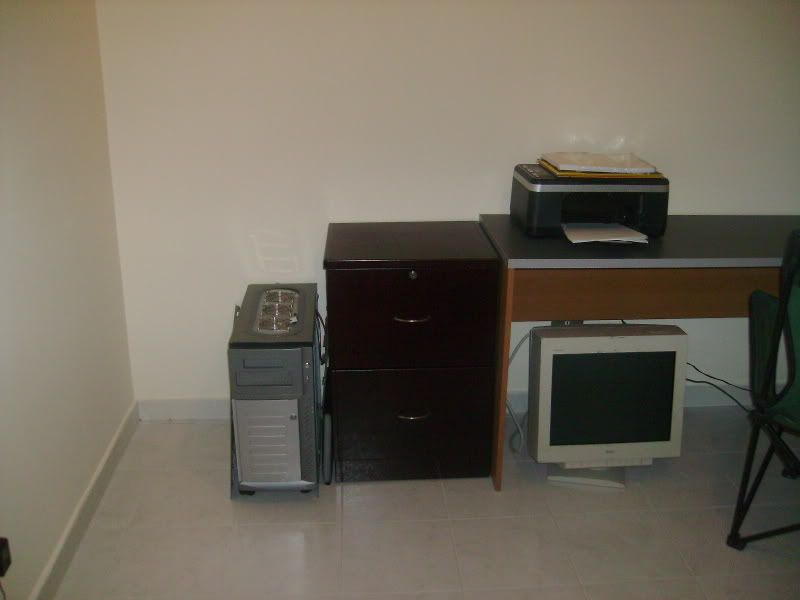 and the closet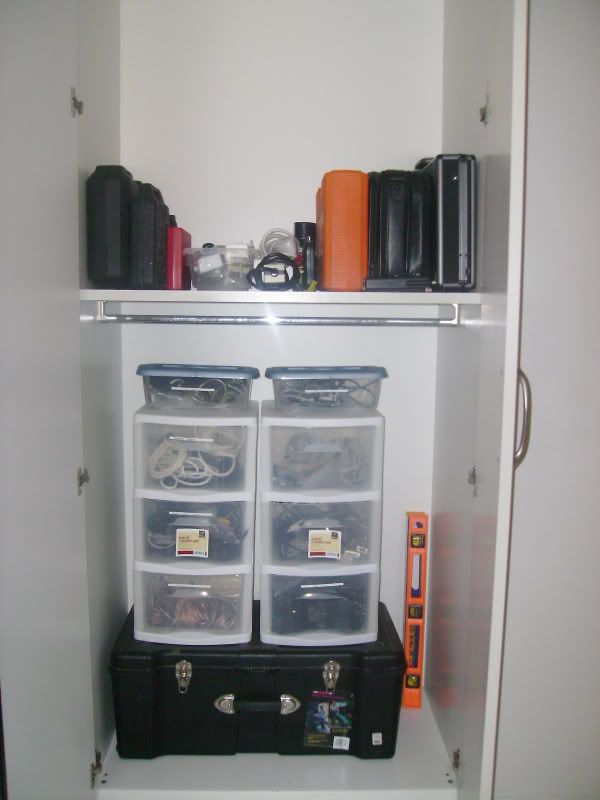 Not exactly perfect, but its a HUGE improvement. I realized about an hour into sorting computer cables that I had NO idea what anything in his office was....thats probably the reason I never touched it before this point. Well I did the best I could and hubby can take it from where I left off. I would also like to add some old pin-up girl posters. This is Hubbys office but I still have to look at it when I walk by and the white walls are killing me.....I think it needs an area rug too. Any suggestions anyone has would be greatly appreciated =)