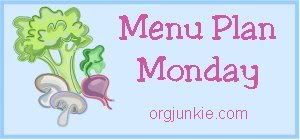 WOO HOO! My 1st Menu Plan Monday....Im so excited!!! I love reading the blog "I'm and Organized Junkie" and she does MPM every Monday. Since hubby doesn't get paid until Wednesday and we dont have a ton of food right now because we haven't been shopping for a month, the first couple of days are gonna look pretty bad =/ But after Wednesday we'll have some food in the house and I'll be able to cook again =) These are also just dinners for me and the 2 girls (3 years old and 18 months) since hubby is deployed right now.
So here we go....
Monday:
Ham Steak, Lima Beans, Stovetop Stuffing, and Cornbread Muffins
Tuesday:
Baked Chicken with Herbs, Cooked baby Carrots, and Mashed Potatoes
Wednesday:
Shepard's Pie
Thursday:
Left Overs
Friday:
Chicken Enchiladas and Mexican Rice
Saturday:
Stovetop One-Dish Chicken Bake
Sunday:
Left Overs
We eat lots of left overs when the hubby is gone. I hate wasting anything....especially food. If you want to check out what other people are planning head on over to http://orgjunkie.com/ and check it out!!