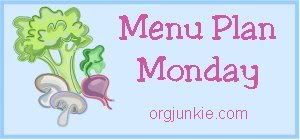 Ah, yes. It's that time of the week again. Another week has gone by and it's monday now...time to lan my menu for the week. Honestly it was semi planned last week because I go grochery shopping every 15 days (when hubby gets paid). So i always have a general idea of what im going to be making the 1st-15th and the 15th-30th(31st) of every month. Its just on Mondays I plan it all out so I can just look at my little calander and take out what I need. It makes life so much more simple. Ok enough rambeling, on with MPM!
MONDAY: Meatloaf, Lima Beans, Mashed Potatoes
TUESDAY: Left over Meatloaf, Carrots, Cornbread, Stovetop
WEDNESDAY: Kabobs and Brown Rice (looking foward to hump day!!)
THURSDAY: StoveTop Chicken
FRIDAY: Leftovers
SATURDAY: Spaghetti with butter and garlic (we dont do tomato sauce)
SUNDAY: Chicken Enchiladas and Mexican Rice
Still eating lots of left overs since hubby is gone until Mid/End of November....no big deal. It saves us some money on our grochery bill. =) Can you believe I only spent $100.17 on grocheries for 15 days?!?!?! Thats not just dinner...thats breakfast lunch snacks and dinner...and no coupons! I suck at using coupons....but I'm good at finding deals and only buying what I need. This mornings breakfast is Waffles with strawberries and whippedcream.....omg so good!! I think I might make some more and freeze them for an easy breakfast later this week. Its a nice change from ceral and milk or eggs biscuit and fruit salad.